Apple and the Golden Ratio?
I am not sure if this is really true, but I came across with an article that says that the Golden ratio was considered in creating Apple logo. I tried to search for confirmation and found out that it is not just the logo, but other Apple designs and products as well.
Aside from the Apple logo, it is said that the iCloud logo also obeys the Golden ratio.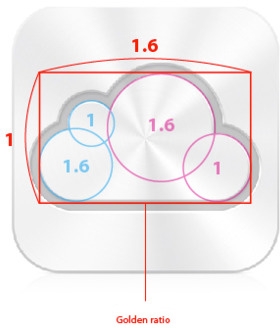 And the iPhone too.
Several years ago, I read a study about the Golden ratio, where people are asked to choose which among a set of similar things where one is in a Golden ratio and the others are not. It was found out that most people chose things in Golden ratio. Now, if the Golden ratio is one of the main reasons for the Apple product fever, we wouldn't surely know.
If this was consciously done by Apple or just a marketing strategy, then they probably have made the right decision. I'm sure that math geeks AND Apple fans will run to their computer and share or blog about this "mathematical connection" the time they know about it.
Image Credits: MacRumors, Gold3n Ratio